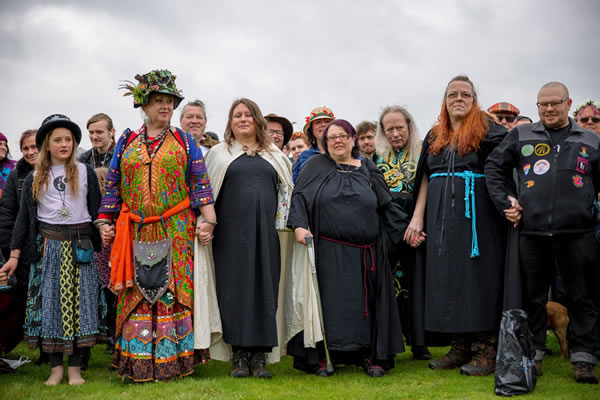 Celebrate the ancient Celtic festival of Beltane at Thornborough Henge in North Yorkshire
Sunday 30th of April 2023
Ceremony starts at 12 noon
FREE entry for day visitors
The circular earthworks known as henges were the cathedrals of Stone Age Britain. At Thornborough, three giant henges where built 5,000-years-ago to form a single ritual complex, making Thornborough Henge one of Britain's most important prehistoric sacred sites.
Each year we gather in this special place to celebrate the festival of Beltane that marks the beginning of summer.
Beltane at Thornborough is an opportunity for people to join together in celebration, and connect with the rich spiritual and folk traditions of this ancient land.
Day visitors
Entry to day visitors is FREE of charge. There is no need to book in advance, just turn up on the day. There will be a bucket for donations at the site entrance.
The postcode for Thornborough Henge is: DL8 2RA. Parking will be provided in a field adjacent to the henge.
The event is suitable for people of all ages, and we particularly extend a welcome to anyone attending the event for the first time.
Amenities
There are portaloo toilets on site, a food catering van and a drinking water supply.
Weekend camping
Sorry, camping at the henge is now fully booked.
Stalls
Sorry, stall spaces are now fully booked.
Henge conservation
Just a few simply rules to ensure that we can continue to have this event in future years:
KEEP OFF THE HENGE: Because of soil erosion it is not permitted for anyone to walk or climb on the raised banks of the henge at any time.
DOGS: Dogs are welcome, but must be kept under control (and off the banks of the henge) at all times. You must also clean up after you dog.
LITTER: Campers and visitors to the henge must take ALL their own litter home with them. Please bring refuse sacks adequate for this purpose.
Thank you for your cooperation.
Contact us
All event enquiries, please email Nell: [javascript protected email address]
or message her on Facebook:
facebook.com/nell.stafford.58